The highlight of this season for hihi conservation has been establishing a seventh population, hihi have once again been returned to the mainland; this time to Taranaki. After spending the breeding season on Tiritiri Matangi it seemed like an obvious progression for me to move to Taranaki with the birds. To quote John, I have known these hihi in particular "since they were eggs". The folks at Rotokare didn't have much of an option, if they wanted 40 juvenile hihi then they had to have me too, but they have been very welcoming and I soon became one of the family.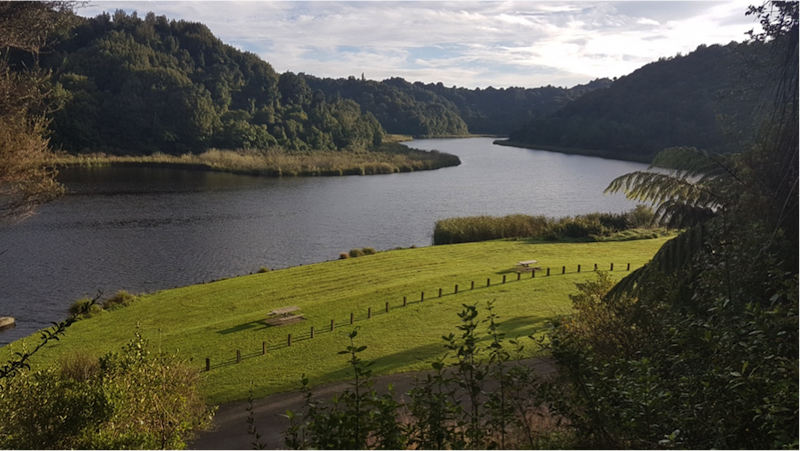 Our new home
Moving the birds went very smoothly, we caught almost all the birds we needed in one day and they spent the rest of the week calling the aviaries home. They were fed an array of wonderful sugary foods which they tucked into and were playing about with each other, juvenile hihi in particular are very sociable. They travelled by boat from the island and were expertly driven overnight so they could sleep on the way and not miss out on important feeding time. The release was on 2nd April, there was a great turn out and lots of excitement to see hihi which have been missing from the region for 130 years.
Rotokare is a reserve in South Taranaki with a predator proof fence surrounding 230 hectares of remnant bush and a 17 hectare lake. Rotokare is steep, wet, muddy and did I mention steep? Finding 40 hihi here was going to be a challenge and I didn't have transmitters to help me. At first they all flew in different directions one or two were found at the sugar feeders and others in gullies. Their food of choice to start with was one they were familiar with from Tiri; big juicy coprosma berries, and pate fruit one they were not so familiar with. About one week into the search I found the first 'hihi hang out' this was a group of four birds, we knew they formed groups on Tiri and were interested to see if they did the same at Rotokare.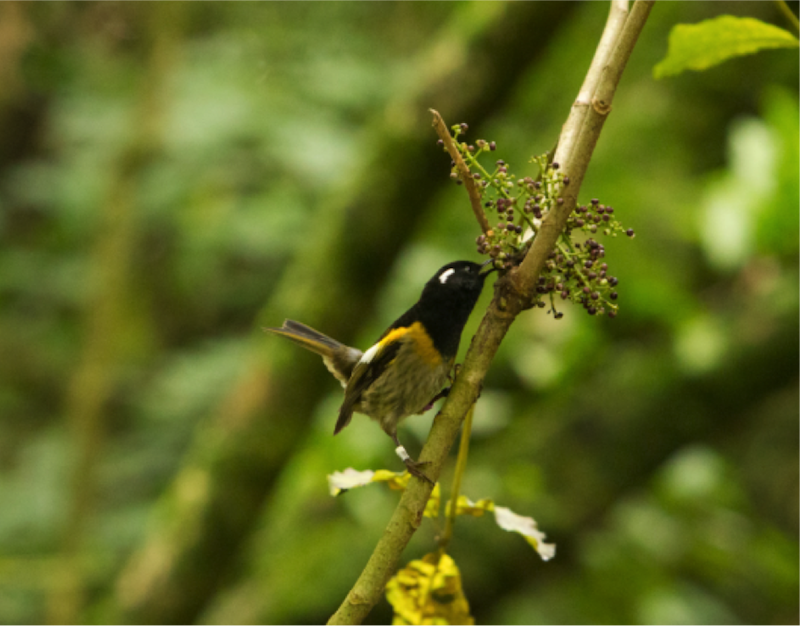 Male hihi enjoying pate fruit. Photo: Tony Green
All was going well, and then they found the Kahikatea… There are some enormous Kahikatea trees around the lake and the hihi took great pleasure in hopping about on the top branches munching on the fruit. This made it almost impossible to read their leg bands without getting a stiff neck, if a visitor came along at the wrong time they were likely to find me laying down on the boardwalk looking up through my binoculars.
After they had finished having fun up high they decided to move into the swamps. Swamp maire was the flavour of the month in May, the hihi were mainly found drinking nectar from the fluffy white flowers. They had formed two groups, known to us as the main swamp crew and the Menzies swamp crew, the latter being the smaller with about 4 regular birds but I saw 11 in one day at the main swamp. So now I had to adapt to swamp life; avoiding having wet feet all the time which mainly involved judging the rotten ponga well to know which would sink from beneath you and which could form a decent stepping stone.
All in all I think the post release monitoring went well, 38 birds were sighted after release, one of which I only found in the last week. They look like they're enjoying their new home and finding lots to eat, I have seen them neck rubbing, huddling and playing about in cavities, all the strange behaviours that make hihi so endearing. I hope they continue to mess around throughout the winter months and find suitable territories going into the breeding season, I'll be checking on them along the way as I'm not quite ready to leave them behind.
Thank you to everyone involved with this exciting new venture, and in particular the sundae Sunday crew for sharing my love of hihi (and caramel sauce).
By: Mhairi McCready
For more information about Rotokare please visit http://rotokare.org.nz