Allan has been a long term champion of hihi conservation and was key in reintroducing hihi to Bushy Park nature reserve in Wanganui.
Mark Dawson – Editor at the Wanganui Chronicle newspaper celebrates Allan Anderson's Environment Category Award at this years Pride of New Zealand awards. More from Mark Dawson's editorial can be found here; http://www.nzherald.co.nz/wanganui-chronicle/opinion/news/article.cfm?c_id=1503423&objectid=11515630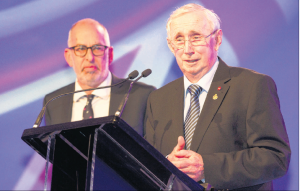 Mark Dawson writes: Rosemary Anderson will be feeling relieved the "other woman" in her husband's life will be taking a back seat from now on. On Wednesday night in a glittering ceremony at the Auckland Museum, husband Allan Anderson won the environmental award in the prestigious Pride of New Zealand awards for his many years of work on behalf of Bushy Park reserve. In his acceptance speech, the Wanganui conservationist noted that he had spent so much time on the popular native bird reserve that Rosemary—who was in the audience on Wednesday — had started calling it "the other woman". Acknowledging his wife's support, he added: "Those closest to us are the ones on whom we often impose the greater sacrifices. So I will try and turn my relationship with 'the other woman' into one of just good friends." After receiving his award, Mr Anderson confirmed he was scaling back his involvement with Bushy Park, the 98ha conservation area, 24km northwest of Wanganui that he has been associated with since 1962. His fundraising efforts for the bird sanctuary have totalled $2.5 million from 1996, including $60,000 for the introduction of hihi, one of the world's rarest birds, and $1 million for a pestproof fence to protect the wildlife. Those considerable efforts will now be boosted by the $4000 cheque he received as part of his national award, money that will also go to Bushy Park. Mr Anderson was delighted with his win and with the many votes he received in the Pride of New Zealand TSB People's Choice award that he just missed out on. "I appreciate the huge support I got in the People's Choice, which demonstrates Wanganui people's support for Bushy Park." He was also delighted to have a national stage on which to deliver his message. "Humans are the only species capable of bringing about the extinction of another species and, by the same token, the only species capable of bringing another species back from the brink of extinction," he said.