I'm a second year PhD student at the University of Cambridge and Zoological Society of London, researching hihi social behaviour in the population on Tiritiri Matangi Island. One of the most common questions I'm asked by visitors to the island is "what's a researcher from the UK doing working with a bird on an island on the other side of the world?". Actually, the hihi population on Tiri is pretty unique: 20 years of dedicated management has created a model population where we have the opportunity to answer questions that would be much harder to investigate elsewhere. All the same, I consider myself very lucky to be able to work with a brilliant bird in a beautiful location.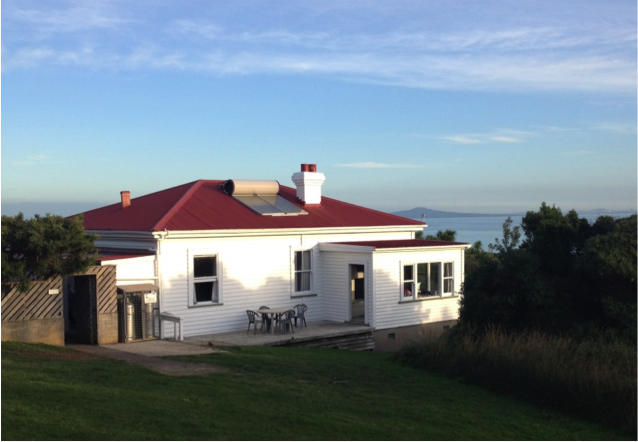 Home for the last 7 months, and one of my favourite views: the Tiritiri Matangi bunkhouse, with Rangitoto island in the background.
With my supervisors, Dr Rose Thorogood and Dr John Ewen, I'm interested in how young hihi learn important behaviours such as finding food. The idea is this knowledge could be used to benefit hihi conservation: juvenile hihi from Tiri are often translocated to new sites, and so knowing how sociability affects behaviour such as finding food, and ultimately survival, could help with selecting the best groups to set up viable populations. However, research in the hihi could also be more broadly important to help understand how young animals in general develop the ability to learn new behaviours in the best way to survive.
I've just reached the end of a 7-month fieldwork stint out on Tiri, where I was investigating whether young hihi learn food finding behaviours with parents when they first leave the nest, and if these behaviours are later influenced by interacting with other young hihi in the first weeks of independence. It's a dilemma faced by every teenager: do you do what your parents tell you, or copy your friends?! I was able to track the spread of learned behavioural preferences at custom-built sugar water feeders from parents at nests sites, to their fledglings, and finally when these young birds became independent, using a new microchip monitoring system (fitted to each bird in plastic leg bands, which give a unique ID code when the hihi passes an antenna).
I built 30 custom feeder cages, and then set them up near nests and at sites where juveniles congregate in "creches" once independent, to investigate if young hihi copy the behaviour of their parents (preference for left "X" side or right "O" side) or follow what their peers do instead. Photos courtesy of Jim Eagles.
That was the basic idea; however, there's always a lot more to fieldwork than you expect at the start! There have been highs, such as being able to see hihi chicks being banded, and there have been lows: using new technology in the field will never go completely smoothly… I've picked up unforeseen skills (I don't know if building mesh feeder cages is something that's ever going to be useful in the real world, but I've had a lot of practice). I've also had the chance to live and work alongside some very dedicated and knowledgeable people. Where would I be without the help and support of fellow researchers, DOC rangers and the Supporters of Tiritiri Matangi? Definitely less well-fed!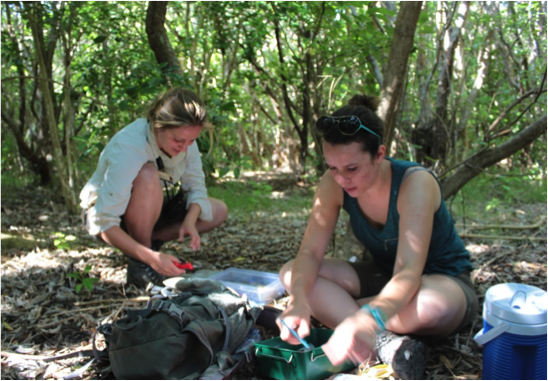 Getting ready to band 21-day old hihi chicks with Mhairi McCready, the DOC contractor responsible for managing the 2015-2016 hihi breeding season. Each hihi gets its own unique colour band combination so we can track their survival in the big wide Tiri world.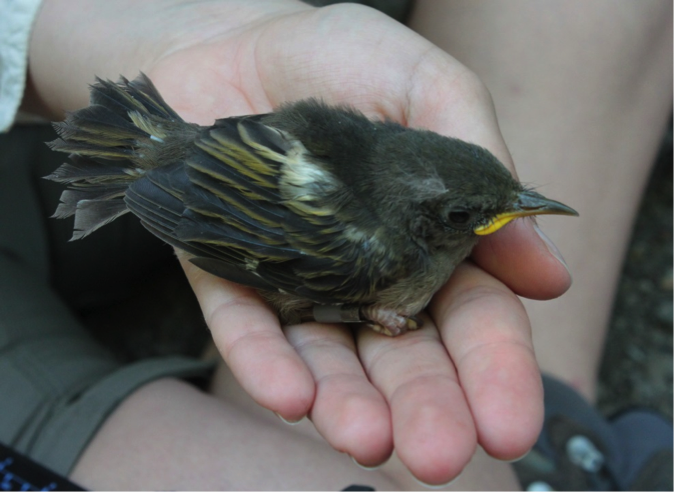 What it's all been about: one of this year's hihi chicks!